Best Sewer Line Replacement Experts in Cypress, TX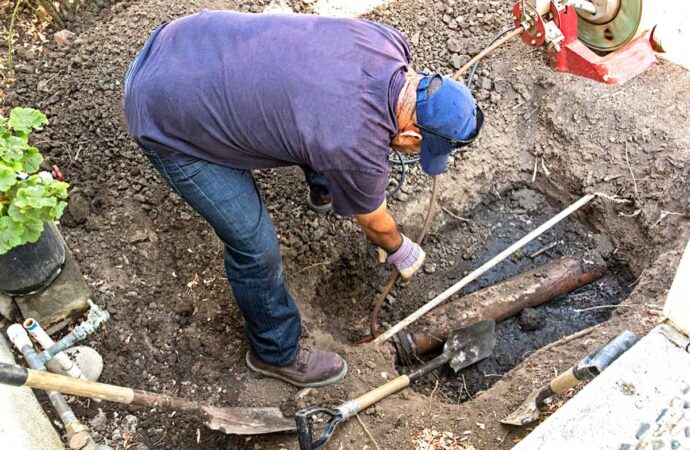 When you think about the number of services that involve a septic tank, it makes you run away from the idea of installing one. But what if we tell you that sewer lines might not give you many problems but when they do, things are more complicated and expensive? This is a clear situation with every sewer line you can see in the properties.
The problem with all of them is that they might be functional in terms of not having to clean and sometimes pump in order to guarantee good performance. But when you have to perform a repair, unclog the line or sewer, and maybe replace it, you will have a lot of trouble trying to do it. Overall, sewage systems cannot be handled on your own and you will need professionals all the time. However, when you consider septic tanks, you know you might be able to handle a thing or two.
But with the sewer lines that are in the ground and cannot be exposed randomly, what can you do? It is not impossible to deal with them, but we can all agree that it is not simple to do something when you do not have the right equipment or experience. Thus, you cannot do much when you think about it in the cold.
Now, since this is the real problem, what is the best step to ensure your sewage system will be functional? The best option is to find professionals that can deliver the services you need. If you are in Texas, it should not be too difficult regardless of the city or town where you reside. However, it is true that the difficult part is to be able to find reliable and qualified professionals. But before continuing with this, let me ask you: what do you think about sewer lines and septic tanks?
If you have pretty much the same idea that we mentioned before as an example, you might need to think about what can happen when you have to face a serious problem with sewer lines. For instance, replacing one can be very tough and take a lot of work to not only ensure the system is working properly again thanks to the replacement. But also ensure everyone will be safe and no accidents will take place during the performance of the service and process.
How did we jump from professionals to replacements? Because the main reason you are here lies in both aspects. What took you to this page was the need for professionals but at the same time, the issue of having to replace the sewer line in your property. Or maybe the possibility of needing the service. Fortunately, you are in the right place.
We, Metro Septic Tank Installation & Repair Group of Cypress, are a qualified and experienced company that has been around for over 20 years. Our team of experts has been properly trained and equipped to ensure it delivers top results and is able to help you with all your needs. We know that it is hard to picture how hard it can be to deal with sewer lines. However, it is about explaining how the replacement needs to take place.
How do you know you must replace the line? 
---
Before getting to the hard work, let's start with the most first step: inspecting it. Instead of just getting in the property and starting to perform a service, it is about identifying the real problem and discovering if the solution and service you are looking for is the right one. In short, we need to determine if you truly need to change the sewer line. 
For this, we will inspect the whole system and focus on the area that is giving you problems. If we find out that replacement can be something to hold for a bit longer, we will let you know. However, if you indeed need to go for it, our experts will start to take all the measures right away. To replace a line, it is necessary to open a trench in the area and part that will be taken and replaced for a brand-new one. 
Our experts will be very careful to prevent more damage to the line and ensure everyone in the trench and near it does not take risks. We always focus on solving the problem at hand but also preventing future ones. It is important to be careful during this process to make sure you do not have to replace another part of the line due to poor service and performance. With us, there is no need to worry about it, so let's focus on the next steps. 
Once we have removed and gone through the process of getting rid of the damaged or old line, we will start to inspect the open area. We want to know if there is something else in the pipes causing the damage and if we have to perform another service. If not, we will proceed to install the new sewer with the utmost care. Once we finish, you will notice the huge difference and know that you definitely got a new pipe for your whole system. 
We at Metro Septic Tank Installation & Repair Group of Cypress know what we are doing. And this is thanks to how much we have invested in the training and equipment of our team. Also, we have dealt with and handled several sewer line replacements over the years. It is not new for us and this has helped us to deliver the best results no matter the difficulty of the task. 
We want you to not only be satisfied but also happy about what you obtain. And if we have to add the word "safe", we would do it for sure. Thus, do not hesitate to contact us in order to have your sewer line replaced as soon as possible so there are no more problems with the system and you do not have to wait much longer to be on your property. 
We offer a variety of services at the Metro Septic Tank Installation & Repair Group of Cypress. Below, you will see the most popular services our clients & customers always ask for. But if you need something that may not be listed, don't worry. Just give us a call or fill out a form, and we'll make sure to come out to your property or business and make sure we can help you solve your septic problems
Here at the Metro Septic Tank Installation & Repair Group of Cypress, we provide the best septic tank services throughout all of Texas and specifically the Greater Houston Area. Below are the nearest cities we can offer immediate services. But if you don't see your city listed below, don't worry! Just give us a call or fill out a form on our contact page, and we'll make sure to take good care of you.
---
Metro Septic Tank Installation & Repair Group of Cypress
13333 West Rd Apt 1132 Houston TX 77041
281-305-9939