Best Municipal and Community Septic Systems in Cypress TX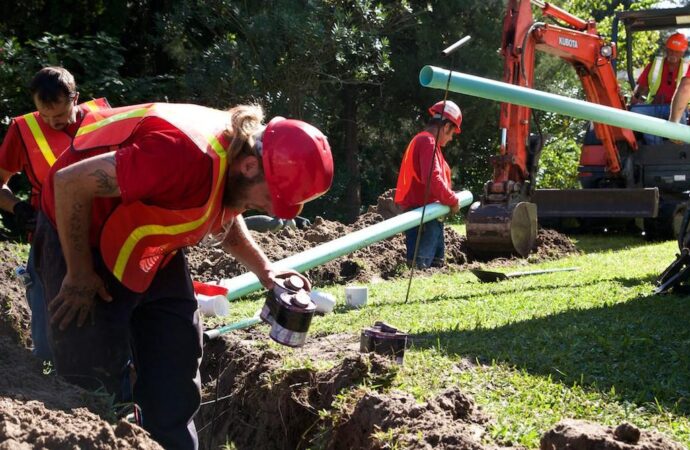 When you think about small projects and requirements to cover, you do not worry too much about them. However, let's suppose you have to take whatever you are thinking about into a large-scale project, how difficult do you think it can be? Well, we all know that it depends on the project you will have at hand.
But the problem with the whole idea is that most people believe they can handle them without problems. This is when you start to notice the reason behind most issues and repairs in properties and some projects: inexperienced people handle them most of the time. However, when you move this idea into sewage systems for not only a property but rather several ones—which is a large-scale project—, you know it will be impossible.
To begin with this whole topic of septic systems, you must know they are quite popular among property owners in Texas for two reasons: because they are better to control waste and people have noticed they are easy to take care of with the right maintenance. They are not like most people have pictured them. Now, you might think that most properties have a sewage system installed or a septic one to be more specific.
However, many properties in rural and suburban areas around Texas have septic systems missing and as a result, property owners have to deal with the whole project by themselves. Usually, the public sewage system is what allows people to cover their needs and make sure the waste goes to the right place. But when this is missing, contractors for the properties you and everyone else acquire should be able to handle the process of installing a decentralized system.
Here is when septic systems play a role: because they are amazing for a whole community when the right option is chosen. Communities and several properties in an area might need to get a septic system installed to cover their needs. And just as we mentioned, this can be either covered by the contractors and sellers or during an agreement between the property owners. But how does this work when you are supposed to have one on your property alone?
The difference with all this is more than just the size of the system overall. Community septic systems are about who will take care of future services like maintenance, cleaning, pumping, and the general problems that will appear in the future. Well, the company that you decide to hire to install the whole septic system is the one that will act as the state: it will take care of the installation and maintenance. In short, the company should be able to guarantee the functionality of the tank for the rest of your life and you only need to pay a contribution or feed every month.
As if you were paying for public services. Now, not many companies in Texas are able to offer a complete service of this scale. Not because of the size of the system but rather all the work it entails to be the ones in charge of its functionality and integrity. We at Metro Septic Tank Installation & Repair Group of Cypress can handle it without any issues.
We are a top company that has been in the industry for many years and we have been able to offer this service among our solutions. You will be able to install a decentralized septic system that will work for a whole community or several properties at the same time. This will help you to save money and time in dealing with individual tanks, and you will be able to enjoy your days by only thinking about what is next.
What are the benefits of going for septic systems? 
---
We understand if you are worried about the whole aspect of septic tanks being not that hygienic and kind of problematic. However, the whole idea of municipal systems is not only about the size and lets our company deal with what you would have to handle if you go for an individual tank. It is also about installing a decentralized system—which we have mentioned twice before—which consists of the main septic tank or more than one depending on the number of properties, that will take all the waste. 
Also, the system is quite ecological because, unlike usual septic tanks, it will treat the wastewater by 99%. You will not have smells or odor, and the whole contamination that is known from this sewage system will not be an issue any longer. It is a system that is about functionality for several property owners at the same time, environmental-friendly and money-saving. But, how much does it cost to maintain it through contributions and bills? 
Much less compared to what you would have to do when going for an individual one. And we do not have to mention the fact that you will be missing the new benefits of the systems available. Therefore, you need to worry about what company you will hire and you will get it done. Fortunately, we are truly experienced in this, and every community and property owner that is working with us right now is more than satisfied with what we deliver. 
When you contact us for the service, we will inspect the whole area, ensure everyone has good soil to install the pipes and connections and start the project. We will do our best to not take too long and ensure everyone is satisfied with the results. Once we are done with the large-scale project of installation, everything left is to have our experts visit periodically to ensure the functionality and performance of the system in every property. This includes cleaning, pumping, maintenance, repairs, and even replacements. 
Every service and solution that can come to your mind will be handled by us as the company that will act as the state. For more information about this service or to obtain it from our company, Metro Septic Tank Installation & Repair Group of Cypress, you can call, email, or visit us anytime.
We offer a variety of services at the Metro Septic Tank Installation & Repair Group of Cypress. Below, you will see the most popular services our clients & customers always ask for. But if you need something that may not be listed, don't worry. Just give us a call or fill out a form, and we'll make sure to come out to your property or business and make sure we can help you solve your septic problems
Here at the Metro Septic Tank Installation & Repair Group of Cypress, we provide the best septic tank services throughout all of Texas and specifically the Greater Houston Area. Below are the nearest cities we can offer immediate services. But if you don't see your city listed below, don't worry! Just give us a call or fill out a form on our contact page, and we'll make sure to take good care of you.
---
Metro Septic Tank Installation & Repair Group of Cypress
13333 West Rd Apt 1132 Houston TX 77041
281-305-9939