Best Grease Trap Pumping & Cleaning Services in Cypress, TX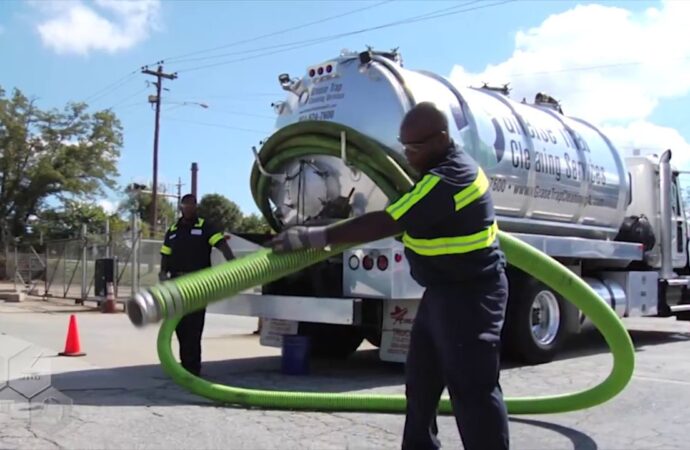 When you have a property or business where grease is very common to go down your drains in the kitchen, you will need to worry a lot about this. Many property owners underestimate how many types of waste can give a hard time cleaning them later on. Or to the entire sewage system and how they can be that future clog that will not give up in the system easily, causing you, the property owner, to spend a lot of money on repairs and replacements.
Well, we want to be a bit clearer about this since it is quite important. You see, the grease, oils, and fats that accumulate in the drains can be an inconvenience due to how hard is to remove them. If you have ever had clogged drains, you already know they are a headache. But imagine adding the texture of the grease and oil to a blockage that cannot be touched with certain tools and the usual methods to remove them.
In short, you will have to try several methods to get rid of it, and maybe you will end up replacing the part of the system because of it. But what can you do if you have to throw a certain amount of grease through your drains? Especially in properties where it is present everywhere? More than dealing with the grease you have to think about preventing it. We really believe that prevention is the best for everything—just take the pandemic as a good example. Therefore, when you think about dealing with any problems in your sewage system, focus more on preventing them from taking place.
In the case of grease and oil, you can use grease traps to do exactly what it says: trap this waste. Grease traps are very functional in any property, either commercial or residential. And they are quite affordable for most property owners, especially those that deal with a lot of oil and fats every day. You only need to get it installed outside the property in the line or drain that connects to the kitchen and areas where you know grease will be present.
This will act as a filter and get all the oil and grease—or most of it—to prevent it from turning into a blockage or making your system fail in other parts or areas. Yes, it is as simple as placing it in one part and making sure it is properly installed to prevent problems in the future. However, there is one more thing: its maintenance. Since you will have a feature that will accumulate it, you cannot expect the trap to hold all the grease and fats forever.
Instead, you will have to get rid of the waste at some point and periodically. At least, if you want it to be a benefit instead of a disadvantage and inconvenience for your property. You see, they are quite useful, but we cannot deny they can also turn into a nightmare without proper maintenance. When you have a grease trap that is dirty and smelly, you are very much going to have issues in your kitchen. Not only with the smell but also with the hygienic part and how your sewage system works as well. With that clear, is it difficult to clean the waste? No, if you have the right equipment and know-how to use it.
Our company Metro Septic Tank Installation & Repair Group of Cypress is one of the few businesses in Texas that can help you with this service. Grease traps are very popular among commercial properties and businesses. Homeowners, either do not know about it or do not find it functional enough for them to install one in their sewer or system. However, before we continue, you must know you will not regret installing it even if you do not deal with too much grease.
Now, our team of experts will make sure you have the best functional and effective trap on your property by not only installing it but also making sure to pump and clean the grease trap. In short, we can offer a complete service to ensure it works as it should and you do not have problems in the future.
How do pumping and cleaning the grease trap work?
---
Cleaning is more about removing and eliminating the bacteria and fungus accumulated in the trap so far, which means we might need to go for pumping first. For it, we will introduce a part of the pumping system we have in our company and get rid of all the grease in the traps. But before this, we have to make sure to know the level of waste in it. 
For this, our team of experts at Metro Septic Tank Installation & Repair Group of Cypress will lift the lid of the trap and measure the waste with a ruler or specific tool to determine the level. Based on this, we will know how much work we have ahead of us or how we will proceed to remove the grease. In cases where the level is quite low and can be measured with a normal ruler, we will mostly scrape the grease and waste to remove it and clean it later on. 
Pumping is not always necessary, but we will let you know when it is, when it is not, and why. If you are planning to have a grease trap after everything we have said so far, just make sure you go for the pumping and cleaning service periodically. Our company will help you to identify how often it is needed based on the amount of waste accumulated in the trap and schedule the cleaning whenever it is necessary. 
Or if you already have one, are you sure you do not need it yet? We want to help you with everything related to this, and we will always deliver the best results so you can continue using your sewage system without any issues.
We offer a variety of services at the Metro Septic Tank Installation & Repair Group of Cypress. Below, you will see the most popular services our clients & customers always ask for. But if you need something that may not be listed, don't worry. Just give us a call or fill out a form, and we'll make sure to come out to your property or business and make sure we can help you solve your septic problems
Here at the Metro Septic Tank Installation & Repair Group of Cypress, we provide the best septic tank services throughout all of Texas and specifically the Greater Houston Area. Below are the nearest cities we can offer immediate services. But if you don't see your city listed below, don't worry! Just give us a call or fill out a form on our contact page, and we'll make sure to take good care of you.
---
Metro Septic Tank Installation & Repair Group of Cypress
13333 West Rd Apt 1132 Houston TX 77041
281-305-9939